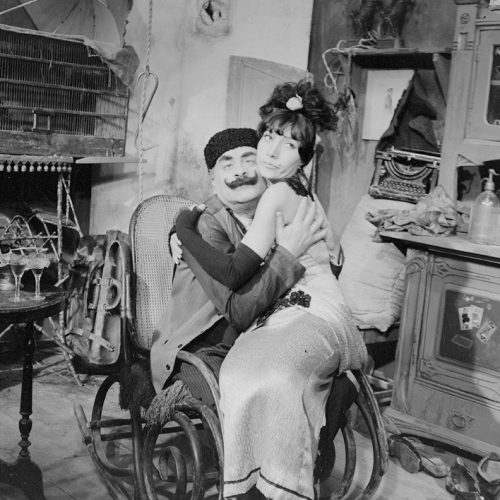 Overview of Georgian Film
The platform Georgian Film Review is dedicated to an overview of modern Georgian film, its features, trends, major aspects, and new movies; however, the reader will also find some materials from the history of Georgian film and also the best reviews developed in the early years by the film critics of the older generation.
Professional and student film critics are involved in the working process of the website, whose analytical articles regarding Georgian professional and student feature, documentary, and animated films will greatly contribute to the refinement and development of our film criticism as well as the popularization of the Georgian national film.
The website is bilingual, in Georgian and English, in order to provide desirable and proper information for both local and international movie fans. 
Khatuna Khundadze
Project leader, film director and producer. After receiving medical education (pediatrician), she continued study at the Stuttgart State Academy of Arts (Germany) majoring in ceramics/sculpture. After studying at the Institute of Cultural Management in Ludwigsburg, she worked as an exhibition curator and event manager, as well as participated in exhibitions as a freelance artist, and founded a gallery for non-professional artists in Stuttgart. At the end of 2012, was appointed as the Deputy Minister of Culture and Monument Protection of Georgia, then supervised the Department of International Relations and Promotion of Georgian Culture. In 2012-2014, she studied at Shota Rustaveli Theater and Film Georgia State University, majoring in film and television directing. Since 2016, she has been a member of the board of directors of the joint-stock company "Georgian Film," later its chairman, the chairman of the board of the Georgian Film Development Fund, since 2020 - the founder and director of the Mestia International Short and Mountain Film Festival. As a director, she has shot several feature films and documentaries, also worked as a production designer, screenwriter, film producer. Currently she works as a producer of Merab Kokochashvili's full-length film. In addition, she is the compiler of about 70 books.
Zviad Dolidze
Project leader and editor, film historian and critic, PHD in History, PHD in Art Criticism (Film Studies), full professor, dean of the Faculty of Art Sciences, Media, and Management of Shota Rustaveli Theatre and Film Georgia State University. Author of seven books and more than 50 scientific articles (published both in Georgia and abroad), co-author of three collections, participant in international and local scientific conferences, editor of several books, magazines, and collections, member of the jury of international film festivals (Bulgaria, Netherlands, Romania, Belarus, Hungary, Moldova, etc.), member of the Georgian Film Academy and Association "Cinerama", executive director of the Tbilisi International Children Film Festival "Oqros Pepela" ("Golden Butterfly").